How to Find, Hire and Work With a Video Editor
May 24, 2022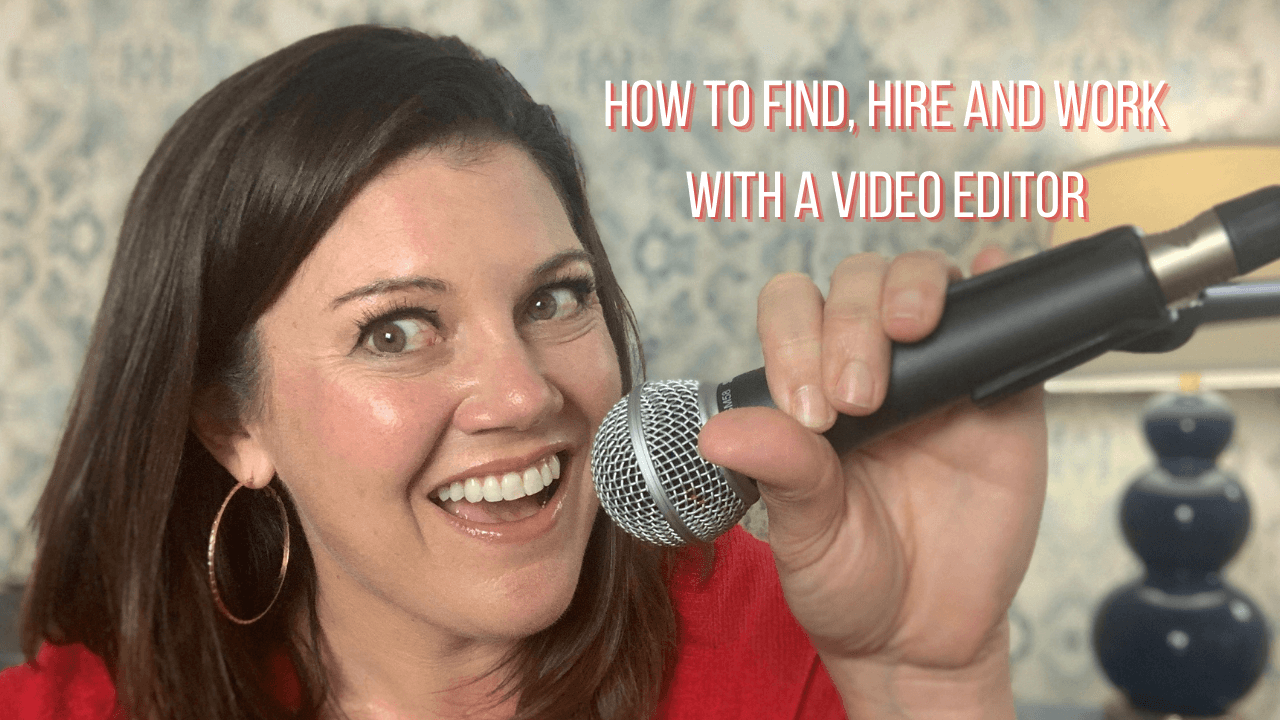 The easiest way to ensure that the video you create and upload to YouTube communicates the story you mean to tell with the viewing quality you want is to hire a video editor. For this blog post, I interviewed Martina Miholic, a freelance video editor with whom I have worked, so I could share best practices on
How to Find, Hire and Work With a Video Editor
Martina, let me start by saying thank you so much for being such a great video editor. We created almost 100 videos together in 2019 and 2020, and in each of them, you listened to my vision, asked questions if something was unclear, and delivered a fabulous video that I could share with my online community!
Thanks for taking the time to meet with me today to share our experience of working together. Let's start at the beginning!
Who are you and what do you do?
I am a video editor and a podcaster. My podcast, titled Rose Koze, is a self-care and personal growth podcast delivered in Croatian, with the exception of a few English spoken episodes, that I co-host with my childhood friend and talk positively about everyday life and inspiring stories shared by others. I live in Zagreb, Croatia, and I have an 8-year-old daughter.
When did you get started editing videos?
I started editing videos about 15 years ago, it started as a hobby. I was so passionate about it that I decided to invest more time and energy into studying various video editing programs, and I still haven't stopped.
When did you decide you wanted to pursue video editing as a profession?
After I saw the movie The Holiday, where one of the characters was a video editor who did trailers, I started thinking of it as a dream job.
I found you on Freelancer.com, a website that matches service providers to people looking for their services. Is this how most of your clients find you?"
Nowadays most new clients hear about me through my older clients, but Freelancer.com would be a good place to find an editor with whom you would like to work.
What workflow do you recommend?
I believe ours was
I uploaded an Audio Visual Script

(AV Script

), the draft video (which in my case was usually broken into 8-10 smaller videos, as discussed in my recording technique

here

), and any images or GIFS I asked you to include in the editing directions in the AV Script to Google Drive.

You then reviewed the script, checked that all files were included that I referenced, and asked me to clear up any questions you had in my directions.

After that, you submitted a draft of the final video in our shared folder for me to review. I sent you any changes in a comment list via email. Then you shared the final version with me in a dropbox file, and I optimized and uploaded it to Youtube.
Have you improved upon that with other clients? Any suggestions appreciated for helping readers create a great workflow with their editor?
Most of my clients upload files directly on Dropbox which is automatically synced to my computer (it's especially handy when working with the time differences), some clients send scripts, and others trust my vision will be to their liking. Once done, I upload the draft to Dropbox where a client can directly leave comments at the wanted timestamp. Then, If any changes are needed, I implement those changes and upload a new, usually a final version back to Dropbox.
Did you find the multiple video format a pain to work with, or did you prefer that over me recording one long video?
It's pretty much the same to me, I just cut out the 'ums' and mistakes in the speech. In case the client sends a lot of takes, I choose the best one. You were sending images, those were in different formats, but the format is easily adjustable and photos usually get animated to flow nicer with the video.
Do you have any other suggestions for video makers when they are working with an editor?
I've learned that the best suggestion would be to 'edit before you film', meaning, one should have an idea of what they want to present in their video before they start filming.
What suggestions do you have for criteria people should use when hiring an editor? In other words, what qualities make a good video editor?
I would say just like in any human relationship, communication is key. Patience and creativity would also be good traits for a video editor.
What's the best way people can get in touch with you if they want to work with you?
The best way is to contact me on Instagram: @mia.edits.podcast or via email at [email protected].
Prior to working with Martina, I would've never guessed how much a video editor is capable of, I know for myself, she was of great help. Video editing is a service I definitely recommend if you don't feel confident with it, or would like to save on time.Stay tuned for my next blog topic, How to Upload and Optimize your video for YouTube Search so Your Future Clients/Customers will Find You.
Meredith Kallaher helps small business owners Expand Their Reach and Explode Their Sales with
1. Facebook and Instagram Advertising Strategy and Management
2. Conversion Copy Writing
3. Kajabi Product Build Outs
Learn How Meredith Can Help You Build Your Business and Exceed Your Sales Goals. Book a FREE DISCOVERY CALL Today.
Let' s Talk
Stay connected with news and updates!
Join our mailing list to receive the latest news and updates from our team.
Don't worry, your information will not be shared.
We hate SPAM. We will never sell your information, for any reason.